We've been getting closer and closer to opening day! Here's a background of the journey:
04/29/22 – The Farmhouse Sale Closed, the Farmhouse is officially ours!
08/19/22 – Facebook profile established, so we could start sharing our progress.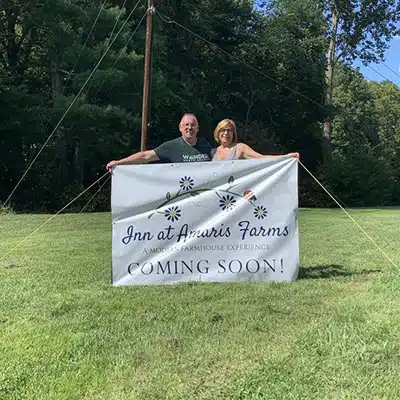 08/27/22 – Our logo is official and our temporary sign went up!
08/08/22 – Demo begins!
09/03/22 – New roof construction to extend indoor outdoor dining for our guests to enjoy, and behind the scenes lots of design choices happening. More progress with electrical, choosing colors, and the kitchen garden is getting ready for Fall.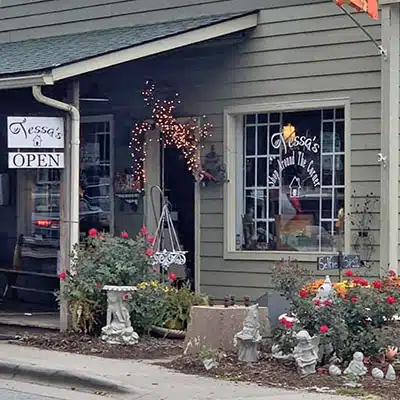 09/30/22 – Checking out the local shops in Weaverville. Theresa and Dean of Tessa's Shop Around the Corner are fabulous! Look forward to using their fabulous and unique finds at the Inn.
10/15/22 – Fall Planting, and the construction of a wonderful outside swing.
11/03/22 – Exciting advances in construction….new septic in and Inspection today!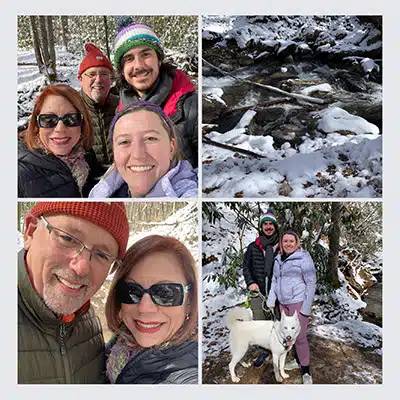 01/15/23 – A Beautiful afternoon hiking at the Ivy Trail Head. We continue to check out the area so we can share the best of the area with our guests.
01/17/23 – Construction progress continues as snow arrives as well as our new tractor and new plants and trees for the garden.
01/26/23 – Some investigating going on today at Maggie B's Wine & Specialty Store in Weaverville- fabulous friendly courteous staff, a delectable array of cheeses and specialty items, wine, Sandwiches …. You must try Maggie B's Wine & Specialty Store!
02/10/23 – As Construction continues on the Inn we are preparing the grounds to welcome our guests with blooms and blossoms.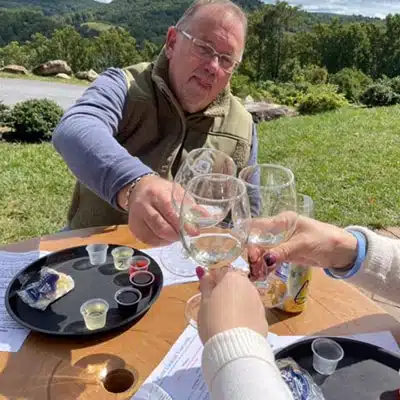 02/18/23 – National Drink Wine Day, so more research for our guests! Whether you choose to relax with a glass on our beautiful property or explore one of nearly 60 wineries that dot the mountains of Western North Carolina, any day is a great day here! Cheers!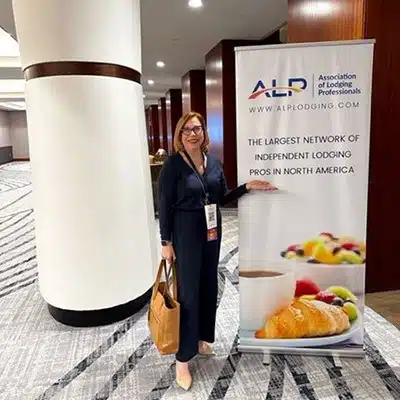 02/27/23 – And we're off! Excited to connect with other Inn owners and suppliers at the ALP (Association of Lodging Professionals) Conference and Marketplace! Our vision is coming together and we can't wait to welcome guests.
03/07/23 -Construction progress is so exciting. We can't wait for finishes and decorating. The vision is becoming reality!
03/20/23 – Practice makes perfect …our own Chef Daniel is busy perfecting the breakfast menu coming soon: crustiest ham and cheese quiche, homemade biscuits and blueberry honey butter – it smells amazing!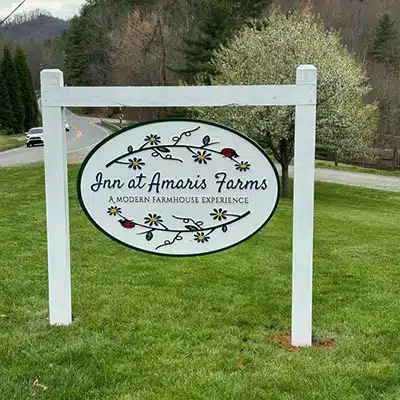 04/02/23 – This is your sign that a memorable experience is coming soon! Thank you, Mike McCue Woodworking Designs & Cheadles Art & Sign!
04/19/23 – New front doors arrived, now to get them installed…
04/27/23 – Mantels are going up, the heat is on and we are getting closer!
05/03/23 – We are working on all the ways to welcome our guests to The Inn At Amaris Farms and Chef Daniel is busy at perfecting his Charcuterie Boards that were handcrafted by Randy Hintz at Salvaterra Pottery – we'll see you soon …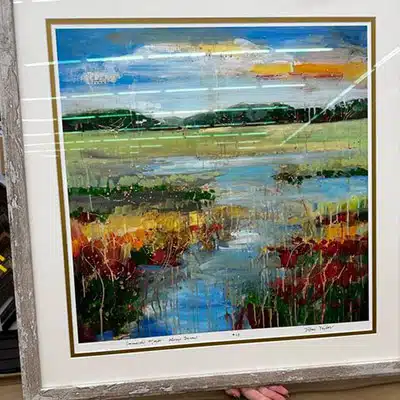 05/08/23 – Beautiful pieces of art that will be incorporated into our rooms have been purchased. Thanks to Savannah artist Tiffani Taylor Gallery. We are so excited to have such stunning work brightening our rooms for our guests.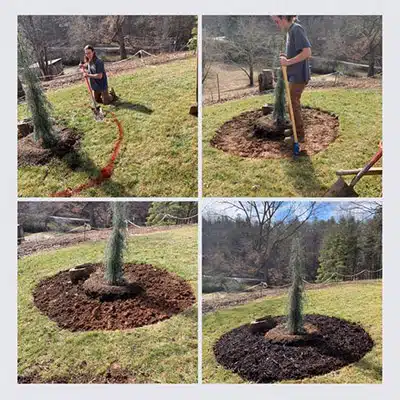 05/11/23 – We have to share Landscaping updates and how proud we are of our Son, watching his vision of using this beautiful natural landscape of the farm to provide a spot for the guests to reminisce about their activities of the day or just read a book or enjoy their favorite libation- cheers!
05/12/23 – First we have front doors and the staircase is getting ready for fabulous new farmhouse railings!! Wallpaper in two rooms! In the kitchen there were appliances everywhere. No stopping here Sineath Construction is pushing thru to the finish line!
06/09/23 – Punch list day is here …the final count down to move in day.
06/12/23 – Room Names are installed! Thank you to the talented Randy Hintz Salvaterra Pottery and Woodwork for the unique design.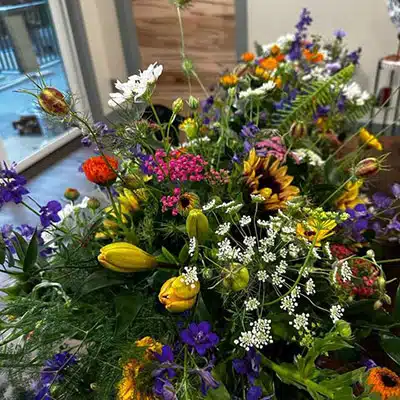 06/14/23 – Thank you Loretta at The Never Ending Flower Farm for delivering these beautiful flower arrangements for our photo shoot tomorrow ….she also got a sneak peak – we are so very close.
We are so excited to announce that we will be open for guests as of July 15! The COUNTDOWN IS ON!